Wild Animal Control Service & Pest Control in Ingleside, IL
Squirrel Control Services
Squirrel Removal From Attics
Nuisance squirrels in an attic present the same problems as mice but just on a larger scale as they can gnaw faster resulting in greater damage. The damage these nuisance animals create in an attic is usually never covered by homeowners insurance given that they are a rodent. Squirrel damage in an attic ranges from gnawed wires to trampling and urination on insulation or exterior holes that allow water to enter creating water damage and mold issues along with other unwanted guest from bugs to bats to enter. Our professional humane squirrel removal company in Ingleside gets to the bottom of pest squirrel problems and stop them with numerous effective squirrel trapping set ups without needing extermination. We offer all services after successful squirrel removal ranging from squirrel odor removal and nesting removal to squirrel exclusion and damage repairs with squirrel proof steel. Squirrels can be a real pain especially when they have 2 litters of young per year. If you are having issues with nuisance squirrels in your attic don't hesitate to call us for a consultation. We offer squirrel control packages as well for large colonies.
Skunk Removal & Control
Humane Nuisance Skunk Trapping

Damage Prevention From Lawn Grubbing Skunks
We remove skunks in Ingleside frequently but can honestly say we love skunks, they are cute, docile animals when dealt with correctly are surprisingly very smart with a reputation for being smarter and a better pet then a house cat. If it were legal in Illinois we might even have a few…however we would never want one living under our deck or stoop so we know just how you feel when you want to get rid of a pest skunk on your property. Believe it or not we have had several clients call the gas company or fire department before calling us for skunk trapping services because they thought the sulfur in the skunk essence was a gas leak. The sulfur in skunk spray is what temporarily blinds animals threatening the skunks life. We offer professional skunk odor removal for skunk spray that is just unbearable which is usually best done after skunk trapping is performed. There is a special process for skunk control that always starts with humane skunk trapping because nothing can be done effectively with a live skunk spraying. Unfortunately we do encounter dead skunks from poisoning or natural causes usually disease. When we have a dead skunk under a deck of concrete stoop we try and remove it as soon as possible as the smell will last for periods of 6+ months very strongly. This is best accomplished by digging till the carcass can be found and removed, a very long process. If you're looking for professional skunk control to eradicate nuisance animals by humane trapping give us a call today for a phone consultation for skunk removal or skunk odor removal.
Humane Raccoon Trapping & Control
Raccoon Baby Removal & Eviction Services
Nuisance raccoons in an attic present two huge issues. Attic insulation damage causing a big rise in heating & cooling bills and the parasite ridden feces filled with raccoon roundworm eggs. Raccoons establish community latrines sites where they repeatedly deposit fresh feces. Raccoon feces can carry millions of roundworm eggs that lay dormant for years and can infect domestic cats and dogs, so raccoon removal is very important Raccoons are powerful animals and to be quite honest, almost every home is at risk of raccoons entering the attic because of their agility and power. Nuisance raccoons chew through roof shingles and wood, boar through soffits, tear down siding and fascia boards and pop open attic fans & vents to get inside an attic. Our raccoon removal company in Ingleside, IL tackles all types of pest raccoon control situations with various types of traps and raccoon exclusion, custom fabricated out of steel to insure once we get rid of raccoons they are gone for good. If you have a raccoon that has broken into your attic you are in luck about one thing, homeowners insurance usually covers the damage they do and takes care of the damaged insulation ruined by the raccoons walking and trampling around. Attic re-insulation due to raccoon damage is best done once the problem raccoons are removed and the raccoon entry points are sealed up professionally. We guarantee all of our raccoon proofing for quality of materials and workmanship. If you have a raccoon in your attic that you need to get rid of, call us today. We will send out a technician to get your humane raccoon trapping process started as well as an agent to estimate damage and work directly with your homeowners insurance on attic restoration.
Raccoon Removal Recommendations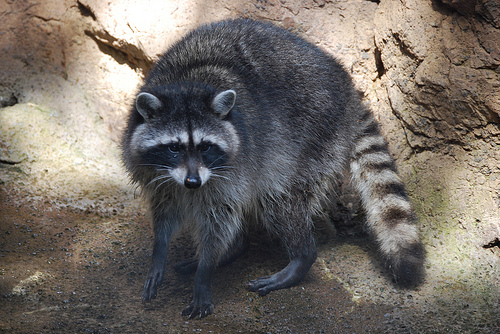 Skunk Removal and Skunk Control Around Your Home

General Rabies Vaccination Schedule for Humans
Raccoons living in your attic can be a disturbing experience for anyone with this issue. Raccoons that enter your living space pose a number of hazards starting with the feces raccoons leave behind. Raccoons establish community latrines sites where they repeatedly deposit fresh feces. The roundworm parasite which is always incorporated in raccoon feces carries millions of roundworm eggs that can survive for years that can infect both humans as well as your pets, so evicting your raccoon is very important. Another factor is the destruction of your attic insulation from the constant trampling that causes your insulation to lose its R value, making your energy bill more expensive. Raccoons for their size are very powerful animals and one of the most intelligent and prolific omnivores anywhere, that gain entry by ripping off shingles and tearing through soffit, prying up roof vents and attic fans. These are their key entry points so raccoon control by trapping is the best way to deal with your raccoon issue. Our raccoon removal team has seen firsthand on what destruction raccoons can create in and outside a home in little time. Raccoons that enter your attic from late winter through early spring is probably a female preparing a den site to rare their young. Raccoon mating season occurs from Jan-March and female raccoons give live birth to 3-5 pups in early April through May. Our professional raccoon trapping services engages in all types of humane raccoon control situations and use a variety of traps to rid you of your pest raccoon issue and most important is our raccoon proofing, custom fabricated out of steel to insure once the pest raccoon are removed, they are gone for good. We guarantee all of our raccoon proofing for quality of materials and workmanship. If you're in need of having raccoons evicted in Illinois call us today.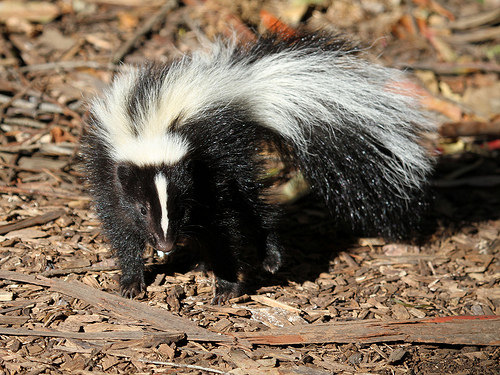 Hearing Noises in Your Attic? You May Have Nuisance Raccoons in Your Attic!
Use This Homemade Garlic Oil Recipe to Repel Raccoons

The Right Way to Resolve Wildlife Problems
It is undeniable that many find raccoons to be cute. They are clever animals, and have their human-like hands and bandit masks. However, when those cute animals begin trying to share your home, it may be time for animal control/removal. These pests can take up residence in your attic or even your chimney, and may threaten your domestic pets.
Those adorable little hands are used to tear at your roof's shingles in order to gain access to the attic. Not only is this a late night disturbance, because raccoons are nocturnal, but it's bad for your roof, too. They'll also take advantage of an open garage, an abandoned car, or they'll try to build a home under your deck.
The major problem is that raccoons can carry parasites and viruses. For instance, most raccoons carry roundworms. Roundworm eggs can remain live in the feces and can be transmitted to humans upon contact. Additionally, a good percentage of urban raccoons are carriers of the rabies virus which can also be transmitted to humans through bites and scratches.
Since it is very possible that these animals will carry some diseases your pets, or even you and your family can potentially be harmed. If something has been near droppings, it might be infected with roundworm. If your dog has been around the secretions he could catch distemper, or if the animals fight, rabies.
Even if a raccoon isn't living somewhere in or around your house, you may still hear it rummaging in your garbage cans late at night. If your cat or dog investigates, a territorial fight might occur. Depending on the size of your dog and the strength of your cat, the raccoon could win that fight.
Another problem that can arise is with regard to your yard. Cleaning up spilled garbage is frustrating, but these animals can also tear up your lawn and garden searching for food and grubs. Locking garbage can lids and proper fencing can help, but it won't eliminate the problem.
The damage to pets and your home can be costly, both emotionally and with regard to repair expenses. This is why it is important to contact a professional for animal control removal. Professionals know exactly what to do, and can take the necessary steps to make sure the animals are removed properly and humanly and also make sure that the animals wont come back. When the raccoon is trapped and removed from your area, it is permanently relocated, and then you, your pets, and your home will be safe.