Wild Animal Control Service & Pest Control in West Deerfield, IL
Squirrel Control Services
Squirrel Removal From Attics
Nuisance squirrels in an attic present the same problems as mice but just on a larger scale as they can gnaw faster resulting in greater damage. The damage these nuisance animals create in an attic is usually never covered by homeowners insurance given that they are a rodent. Squirrel damage in an attic ranges from gnawed wires to trampling and urination on insulation or exterior holes that allow water to enter creating water damage and mold issues along with other unwanted guest from bugs to bats to enter. Our professional humane squirrel removal company in West Deerfield gets to the bottom of pest squirrel problems and stop them with numerous effective squirrel trapping set ups without needing extermination. We offer all services after successful squirrel removal ranging from squirrel odor removal and nesting removal to squirrel exclusion and damage repairs with squirrel proof steel. Squirrels can be a real pain especially when they have 2 litters of young per year. If you are having issues with nuisance squirrels in your attic don't hesitate to call us for a consultation. We offer squirrel control packages as well for large colonies.
Skunk Removal & Control
Humane Nuisance Skunk Trapping

Damage Prevention From Lawn Grubbing Skunks
We remove skunks in West Deerfield, IL frequently but can honestly say we love skunks, they are cute, docile animals when dealt with correctly are surprisingly very smart with a reputation for being smarter and a better pet then a house cat. If it were legal in Illinois we might even have a few…however we would never want one living under our deck or stoop so we know just how you feel when you want to get rid of a pest skunk on your property. Believe it or not we have had several clients call the gas company or fire department before calling us for skunk trapping services because they thought the sulfur in the skunk essence was a gas leak. The sulfur in skunk spray is what temporarily blinds animals threatening the skunks life. We offer professional skunk odor removal for skunk spray that is just unbearable which is usually best done after skunk trapping is performed. There is a special process for skunk control that always starts with humane skunk trapping because nothing can be done effectively with a live skunk spraying. Unfortunately we do encounter dead skunks from poisoning or natural causes usually disease. When we have a dead skunk under a deck of concrete stoop we try and remove it as soon as possible as the smell will last for periods of 6+ months very strongly. This is best accomplished by digging till the carcass can be found and removed, a very long process. If you're looking for professional skunk control to eradicate nuisance animals by humane trapping give us a call today for a phone consultation for skunk removal or skunk odor removal.
Humane Raccoon Trapping & Control
Raccoon Baby Removal & Eviction Services
Nuisance raccoons in an attic present two huge issues. Attic insulation damage causing a big rise in heating & cooling bills and the parasite ridden feces filled with raccoon roundworm eggs. Raccoons establish community latrines sites where they repeatedly deposit fresh feces. Raccoon feces can carry millions of roundworm eggs that lay dormant for years and can infect domestic cats and dogs, so raccoon removal is very important Raccoons are powerful animals and to be quite honest, almost every home is at risk of raccoons entering the attic because of their agility and power. Nuisance raccoons chew through roof shingles and wood, boar through soffits, tear down siding and fascia boards and pop open attic fans & vents to get inside an attic. Our raccoon removal company in West Deerfield, IL tackles all types of pest raccoon control situations with various types of traps and raccoon exclusion, custom fabricated out of steel to insure once we get rid of raccoons they are gone for good. If you have a raccoon that has broken into your attic you are in luck about one thing, homeowners insurance usually covers the damage they do and takes care of the damaged insulation ruined by the raccoons walking and trampling around. Attic re-insulation due to raccoon damage is best done once the problem raccoons are removed and the raccoon entry points are sealed up professionally. We guarantee all of our raccoon proofing for quality of materials and workmanship. If you have a raccoon in your attic that you need to get rid of, call us today. We will send out a technician to get your humane raccoon trapping process started as well as an agent to estimate damage and work directly with your homeowners insurance on attic restoration.
Bat Exterminator - Find a Wildlife Removal Specialist Today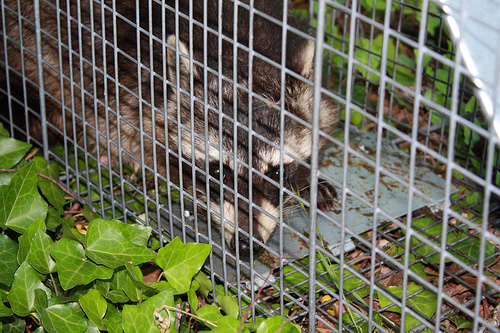 Skunk Removal and Skunk Control Around Your Home

General Rabies Vaccination Schedule for Humans
Rabies is a well-known and widely-feared virus that is highly contagious and commonly carried by many species of mammal. Raccoon, bats, birds, dogs, cats, foxes, and are not only susceptible to the virus, but are common carriers of the disease. It is passed along and transmitted through the infected mammal's saliva, either through bodily fluids, open wounds, scratches, or bites. If treatment is neglected, the Rhabdovirus is always fatal. Fortunately, modern advances in veterinary care allow us the opportunity to vaccinate our domesticated pets with a Rabies vaccine and protect them from contracting the fatal virus.
If an animal is bitten by a rabid mammal, and they have never been vaccinated, there is little hope for survival. But what about humans? Humans on the other hand can be treated before or after being exposed to the Rabies virus. There are stringent vaccination schedules that must be properly implemented in order for the medicine to be effective. Continue reading and review the general Rabies vaccination schedule for humans, pre-exposure and post-exposure.
A Total of 2 Doses on Two Separate Occasions:
Dose 1 = Immediately After Exposure
Dose 2 = Three Days After the Initial Dose
If you spot raccoons or other wild animals on your property, be sure to keep your distance to avoid provocation and fear that could cause animals to attack. You never know what diseases an animal has, so it is best to avoid contact at all times. If you suspect you have a raccoon problem, call a local wildlife removal company for safe and humane raccoon control services. Better protect yourself, your family, and your property by preventing raccoons and other animals from visiting each night.
To find a Rabies vaccination clinic in your city, check out the Passport Health Travel Clinic locations.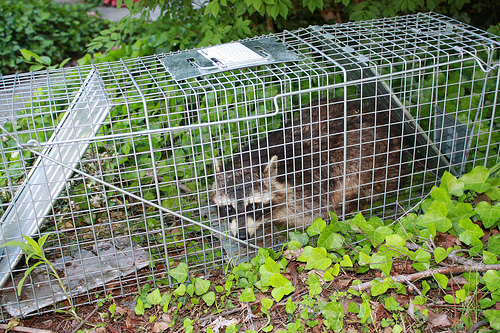 The Negative Effects of Beaver Dams
Useful Information About Wild Raccoons

The Negative Effects of Beaver Dams
Have you been hearing strange noises in your house at night? Are you concerned that something is living inside your attic? This can be a scary and concerning experience for homeowners, especially when you don't know what the noise is or where it's coming from. If you have been hearing strange noises, especially at night, these are signs of a wildlife or rodent infestation.
Wild animals such a squirrels, raccoons, possums, rodents and even bats can move into your home's attic or crawl space. While you are terrified in your bed, trying to get your rest; these animals are throwing a party in your attic! They quickly make your home theirs; they will nest, mate, have babies, poop, pee, eat and then go to sleep peacefully. All while your pulling your hair out trying to figure out what to do.
The types of noises you may be hearing can range from chewing vibrations, hard thumping, scratching or even worse; moans, cries and growling. Bats do not make as much noise, however you may hear very light, yet high pitched squeaking noises. If you're hearing these type of noises and you believe that you have a wildlife infestation here are some tips to help you out, so you know exactly what you need to do from here.
First things first, you need to inspect your entire property and look for any entry points. This includes the roof top, soffit breaks, attic vents and even under the home. If there are animals nesting in your attic, they got in there somehow, someway. With larger animals these spots will be easy to point out and you will clearly see the damage where they were entering and exiting. However, with smaller animals such as rats and bats, it may be more difficult to locate these entry points. You will need to look for any and all holes that are larger than a quarter. Also with rats and bats you will see black marks around any entry points. Once you have located entry points, you will need to make the necessary repairs. Every home owner's situation will be different; repairs can range from simply patching a hole, all the way to replacing an entire roof!
After fixing any damage or access points, now is when you will need to trap and remove the animals. You can purchase live traps for larger animals and you can purchase rat traps for the rats. However, when it comes to bats, it is highly suggested that you hire a licensed professional wildlife trapper to remove the bats, as there are strict laws and regulations in place to protect this important species. If you remove the bats incorrectly or at the wrong time of year, you can be hit with heavy fines. So, when it comes to bats please make sure to hire a professional animal removal company.
As far as the other animals, you can easily remove these animals yourself, if you feel comfortable doing so. Be very careful as wild animals are known to carry rabies and rabies is a deadly disease, with no known cure. If you do not feel comfortable trapping and removing the wildlife, there are plenty of companies that offer wildlife removal services. What these companies will do is provide an inspection. They will locate the damaged areas and entry points for you, find out what type of animal it is, set up the traps and remove the animals for you.
Then the wildlife trapping company will offer an exclusion service, where they will seal off the holes and repair the damage that is allowing the wild animals access to your home. These are all things that you can do yourself, but I always recommend hiring a professional because the company should offer you a warranty. In fact, if they do not offer a warranty do not go with that company, as they are not professionals. Professionals will always stand by their work and offer renewable warranties. Also check for reviews online before hiring a wildlife trapping company.
Once you have controlled the wildlife problem, it's important to perform some follow up work to prevent the problem from happening again. Here are some tips: trim away all tree and bush branches that are close to your home. Animals can follow the branches on to your roof top. Remove all dog and cat food from outside after the animals are finished eating; as this is one of the biggest culprits to bring wildlife to your home. Another culprit is the bird feeder, as rats and squirrels love the bird seed. If you've been hearing things in your attic, I hope you find this information helpful and I wish you luck in getting rid of the wildlife problem. To learn more about dealing with noises in the attic, click for more information about animal removal and wildlife control.