Wildlife Removal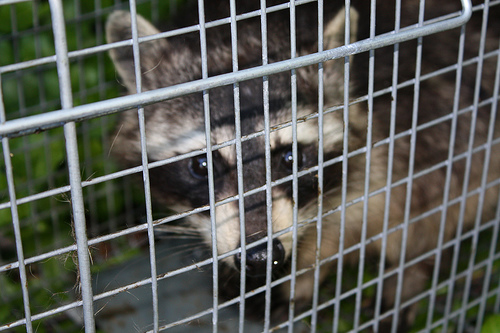 Wildlife Removal

Spotting Evidence of Raccoon Infestations
When a skunk has made has burrowed under your front stoop, time is not be on your side and you may find yourself in a bad position if you don't act quickly enough. February marks the start of reproduction season and a litter of 4 to 6 eager to spray baby skunks will also take up residency. Skunks can be beneficial to us because their omnivores, eating rodents such as mice and insects, but having one spraying under your stoop can cause nausea and headaches. At our humane skunk trapping company, we know exactly what you're going through and would like to help. Skunk trapping is the only way to relieve you of your skunk issue and that nauseating odor. Mothballs, ammonia soak rags or a radio will only work for a short period of time, but won't solve the problem. Our top rated company has over 25 years of skunk control experience to relieve you of your unwanted stoop dwellers. Our Skunk Removal services are very proficient on how to remove your pest skunk issues to relieve you of that revolting odor. Once all pest skunks are removed. Our skunk trapping company recommends skunk proofing your problem area because the scent left behind will attract other skunks to dig in. Some other animals that will take over a skunk den are raccoons, opossums and woodchucks. Our skunk proofing is custom fabricated out of steel to insure once we remove all skunks, they are gone for good. We guarantee our entire skunk proofing for quality of materials and workmanship. Our professional company would like to inform our client of the possibility of an animal dying in an out of reach area where a dig out is crucial for dead animal removal because the smell of a rotting carcass will make you forget about a skunk scent. Our local company also offers a odor eliminating services to relieve you of that revolting odor and put you in a good position and give you peace of mind. If you're in need of skunk removal in Illinois give us a call, we'll be happy to help in the eliminating of your pest skunk issues and leave you and your family in a very good position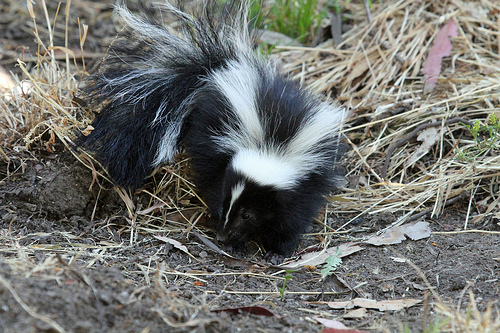 3 Types of Plants That Repel Raccoons
Home Management Solutions for Nuisance Raccoons

Squirrel Removal - Guidelines and Treatments to Get Rid of Squirrels
Our animal kingdom embraces a long list of fascinating and curious creatures, critters, and crawling things. Depending on the region in which you live, you will see a variety of different species. If you are a frequent visitor or resident of the Northern or Eastern parts of the country, then woodland creatures are the animals you will encounter most often. One of the most intelligent and prevalent of them all is, in fact, the wild raccoon! Raccoons are spotted on regular occasions in residential neighborhoods and in the natural forests and wooded areas of the United States, as well. There are so many issues, topics, and areas to discuss when it comes to raccoons, but let's begin with the fun stuff! Continue reading to learn some general information about wild raccoons, some fun facts, and who to call for professional assistance and advice when it comes to raccoon control and preservation.
Raccoon Names and Species
Raccoons have many names and appellations. This is because they are found in several different regions of the United States, and exhibit marginally different features, habits, and lifestyles. Raccoons are part of the Procyon genus and scientifically referred to as Procyon Lotor; loosely meaning "dog-like". In addition to this very formal title, these animals are also known as the Common Raccoon, North American Raccoon, and the Northern Raccoon.
In addition to these colloquial names, raccoons are also referred to by their habitat and behaviors. There are at least six known species of raccoon and various subspecies. They are highly adaptable mammals that can live in a variety of different climates all over the world; including Central, South and North America, Canada, Asia, Europe, and even the Caribbean. This variety leaves room for a lot of interesting names. Other types of raccoons include, but are not limited to, the Ring-Tailed Raccoon, Upper Mississippi Valley Raccoon, the Eastern Raccoon, Ten Thousand Island Raccoon, the Crab-Eating Raccoon, the Tres Marias Raccoon, the Guadeloupe Raccoon, the Coati, the Cozumel Raccoon, and more. The differences among each species include size, weight, fur color, diet, behavior, and other identifiable and physical characteristics.
For shelter, raccoons in suburban areas are known to use houses, buildings, attics, garages, sheds, and roofs, sewer drains, outside play sets, pet houses, hollowed trees, crawl spaces, porches, decks, and more. They are moderately intelligent mammals that can learn to overcome obstacles and remember certain tasks for up to three years! They can use their dexterous hands and claws to open gates, pick locks, dig holes, lift, push, and rip away anything in their way. This causes a lot of structural damage to homes and buildings in these municipal neighborhoods and areas.
When building and homeowners experience an animal infestation problem, it is important that they act fast. Structural damage, repairs, cleanup, and attacks are all potential consequences of a raccoon infestation. This is especially vital for families or buildings with small children. Wild raccoons can not only be defensive and protective of their clan, they can also carry a plethora of communicable diseases; including Rabies, Canine Distemper, Leptospirosis, and more. To avoid a raccoon attack or contagious infection, it is crucial to remove raccoons as soon as you are aware they of their presence. Typically, an animal control company can be called out to diagnose the issue and facilitate a set of remedies to eliminate the threat. In this situation, it is highly advised to hire a company that does not use dangerous and inhumane methods of animal control. Be sure to call a company that can remove raccoons safely and humanely. An animal control company should never kill raccoons.